Pet owners know what it's like. You plan a weekend getaway that includes your pet–arrive Friday evening after work, have Saturday to spend there, and then return home Sunday. If you're lucky, you have Sunday to spend out with your pet, but you really only have one day that isn't limited to pet friendly activities–the cost of having a furry or feathered family member. So, I've set up a 1 day itinerary for San Diego with some must do activities.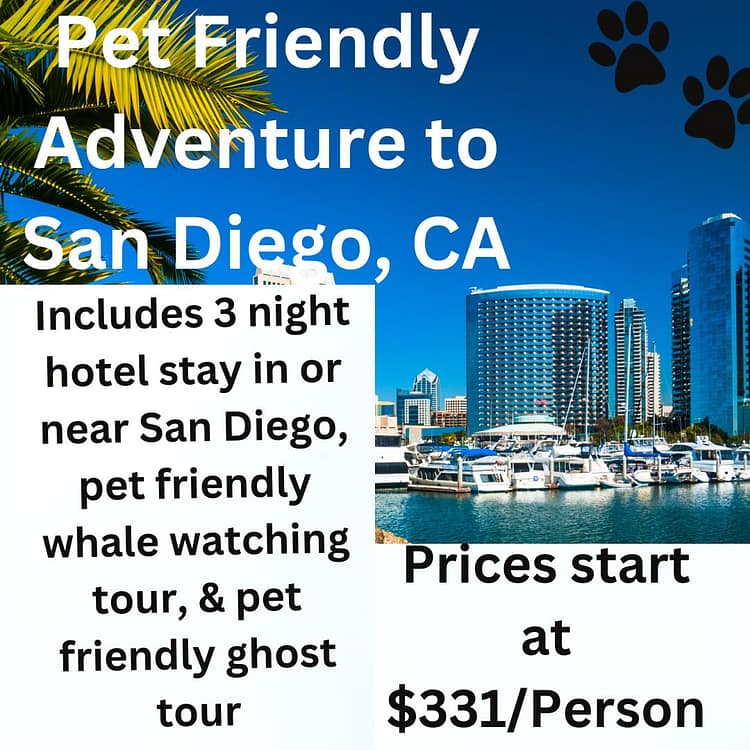 Kayak through the Sea Caves
9:00 AM: 2 hour Kayak Tour through the sea caves with Hike Bike Kayak in La Jolla. It's $85.84 for a tandem kayak, and you're going to want to arrive at least 30 minutes before your tour, if not an hour before to check in. The tour company will give you specific instructions once you book.
After your kayaking tour, there are a number of restaurants in the area for lunch. Here are some of the best ones:
Duke's is a Hawaiian restaurant about a 5 minute's drive from Hike Bike Kayak with a wide assortment of seafood dishes including a seared ahi bowl, fish tacos, fish and chips and more. They also have burgers, chicken, and pork options as well. Prices are on moderate ranging between $16 and $23.50 for entrees. They have a couple of dessert options as well as wine and beer options.
There is free street parking available, as well as garage parking for a fee and valet parking. Reservations are recommended and can be set up through their website.
COVID Restrictions: Duke's also does temperature checks and requires masks for guests when they are not at their table.
The Cottage sells California cuisine, a 7 minute's drive from Hike Bike Kayak. Like with Duke's prices are moderate. They range between $15 and $23 per entree. They also have a separate drink and dessert menu.
Reservations are highly recommended at this restaurant as wait times can be relatively high (current wait time as of writing this post is 38-53 minutes).
George's is a high end option about 4 minutes away from Hike Bike Kayak. Prices for an entree will run you between $17 and $34. There are a variety of options for entrees including: Grilled salmon, fish or shrimp tacos, a fish or chicken sandwich, a burger option, as well as pasta and salad options, as well as a variety of starters, desserts, and drinks.
They offer limited online reservations but recommend calling or walking in.
As of the time of this post, all dining is outdoors at George's, on their Ocean Terrace.
Budget Options
House of Pizza: Offers traditional and specialty pizzas, as well as calzones, and an antipasto salad. Prices start at $5.20 for pizza. Calzones and antipasto salad cost $4.65.
The Cheese Shop: Offers sandwiches starting at $4.50 up to $15.95. The Cheese Shop is located at 2165 Avenida de la Playa, La Jolla, CA 92037.
Brick & Bell Cafe: Coffee shop with a few sandwich options, most at $6.95.
Entry will run you $24.95/person to see sea dragons and seahorses, meet scientists, see underwater robots, leopard sharks, moray eels, an endangered Giant Black Sea Bass, and much more.
Advance registration is required
Masks are required indoors and out regardless of vaccination status
Social distancing is required
After the aquarium, it will be time for dinner.
The Shores is a high end seafood restaurant with prices running between $17 and $36 for an entree. They are located 5 minutes from Birch Aquarium and are open until 8 PM, giving you plenty of time to leisurely enjoy your meal. You can make reservations through their website.
Piatti is a moderately priced Italian restaurant located at 2182 Avenida de la Playa. They serve pizza and pasta dishes ranging from $16-$29.50, though most entrees appear to be around $20. Make a reservation here.
The budget options for lunch also have dinner hours that allow you additional options and can help you save money if The Shores and Piatti are not for you.
After Dinner
If you're not quite ready for your day to end, you can take a stroll through Seaport Village to close out your evening. Fido can even join in for this one and get his walk in! You can see the historic carousel, get your caricature done, pick up a souvenir or two and much more (although you'll have to stick to outdoors if Fido is along). There are also tons of restaurants here if you want additional options for dinner.
There are a multitude of things to do in San Diego, and this is only the tip of the iceberg.
For more trip and activity ideas, 1 Day Trip Itineraries, and more consider subscribing to my blog for regular updates.
Other Travel Articles You Might Enjoy:
Sustainable Travel: a globetrotter's guide to being a responsible tourist by Amy Tull