I love Universal Studios–both Hollywood and Orlando. But, I had never gone to Halloween Horror Nights at either park. That is, until this year. I went to Halloween Horror Nights early in the season this year, and here is my Halloween Horror Nights Hollywood Review.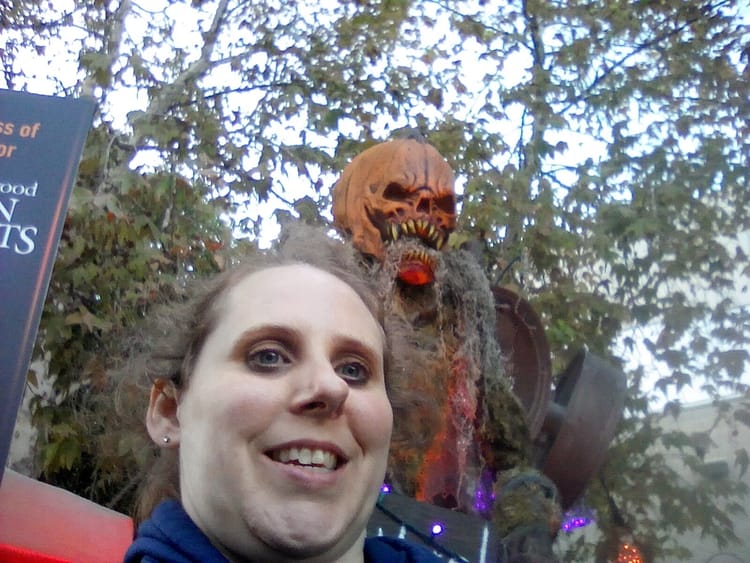 You can get more information about Halloween Horror Nights Orlando here.
La Llorona: The Weaping Woman
I arrived in mid-afternoon and gained entry with my season pass, since I did not purchase a Day and Night pass. The rides began to close down around 5 PM, at which point I headed back upstairs to get my bracelet and express pass for Halloween Horror nights.
Although some of the mazes were supposed to open at 6:30, most of them did not open until 7 PM. La Llorona was one of the few mazes open at 6:30, and the first maze I went through.
To be honest, I don't remember a lot of it, but what I do remember that there were a lot of scare actors jumping out at us. While La Llorona was not my favorite maze, it was one of the better mazes.
To book your Universal Studios trip, go here.
Terror Tram
The Terror Tram was also open at 6:30, and it was the second Halloween attraction I went through, but I regret going through it then for a few reasons. First, the Terror Tram utilizes the studio tour carts to take us down to the backlot for the mazes, so the line moves quickly, especially if you have an express pass. This is not the case for some of the other mazes.
The second reason is that by the end of the night, even with taking some Tylenol, my feet were killing me. It would have been nice to give my feet a short break, even if it was only a few minutes.
That said, this was my favorite of all the mazes because this maze, this set of mazes, had the most scare actors with lots of jumping out at us.
The Mazes on the Lower Lot
I combine these together, because they all had one thing in common–fewer scare actors and less scary, and for me, less enjoyable mazes. If you cannot see everything, the lower lot mazes are the ones you can skip. Or, if you are looking for less scary, these would be the ones to see.
The lower lot mazes include The Weeknd, Monsters and Legends, and Killer Klowns from Outer Space.
Scarecrow: The Reaping & Halloween
Scarecrow and Halloween were both on the studio lot, to be accessed through the back of Hogsmeade. Hogsmeade was another story and something I wish I could go back just to experience on Halloween. I didn't spend nearly enough time around the Death Eaters–apparently, they'll duel with you. I was honestly too tired as I was walking through Hogsmeade on my way down to Scarecrow and Halloween as well as back up to the upper lot for the last two mazes.
Above, when I talked about the Terror Tram, I said that I would have waited until later in the night to go on it. That is because even with an express pass, it was a long wait for Scarecrow and Halloween. I recommend getting in line for these first, because the lines will be very long if you wait until later in the night. While I didn't care for Scarecrow, I really enjoyed Halloween. It was second only to the Terror Tram and the scare actors on the upper lot.
Universal Horror Hotel & The Horrors of Blumhouse
These were the last two mazes I went through before I left for the night. By this point, my feet were killing me, and I was exhausted. So, I didn't enjoy them as much as I think I would have. While not as good as the Terror Tram or Halloween, all of the mazes on the Upper lot were really worth the time spent in them.
This concludes my Halloween Horror Nights Hollywood review.
Similar Posts You Might Enjoy