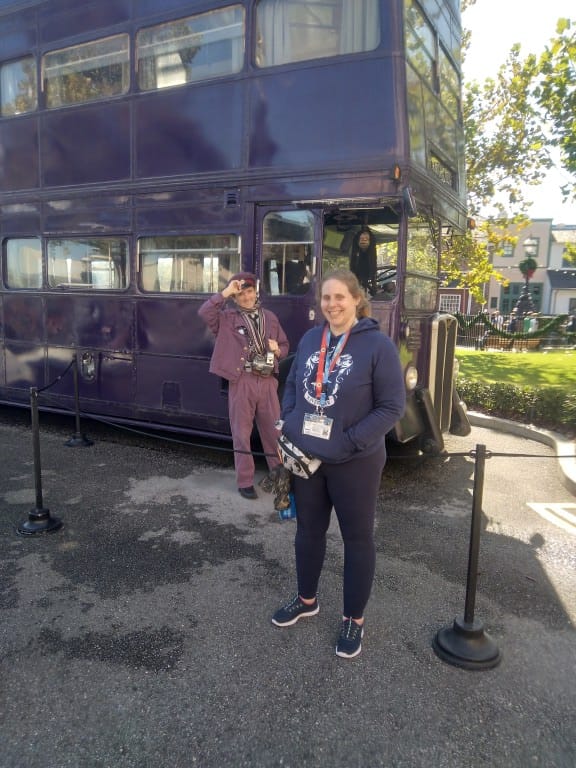 If you've never been to Universal Studios Orlando at Christmas, you're in the right place. Here are some tips for your trip and what you should expect.
Get the Express Pass
It will pretty much be packed. I went to Universal Studios over Thanksgiving last year. And, it was very crowded. Now, I really wish that I had purchased express passes for each day instead of just one day. I also did the private VIP Experience which is amazing if you have the budget for it, but I digress.
Express passes start at $79.99/person.
An alternative to getting express passes is to use the single rider lines. While this can get you onto the ride much faster, it is important to note that your party will be split up.
The following rides at Universal Studios have single rider lines:
Fast and the Furious: Supercharged
Harry Potter and the Escape from Gringotts
Hollywood Rip Ride Rockit
Men in Black Alien Attack
Revenge of the Mummy
Transformers: The Ride 3D
The following rides at Islands of Adventure have single rider lines:
The Amazing Adventures of Spiderman
Dr. Doom's Fear Fall
Dudley Do-Right's Ripsaw Falls (warning: you will get soaked, even with a poncho)
Hagrid's Magical Creatures Motorbike Adventure
Harry Potter and the Forbidden Journey
The Incredible Hulk coaster
Jurassic Park River Adventure (warning: you will get wet–a poncho is highly recommended unless visiting in the summer months)
Jurassic World VelociCoaster
Skull Island: Reign of the King
Make Reservations ahead of Time for Meals or Bring Food with You
When my friend and I traveled to Universal Studios last year, we made reservations for some of our meals but not all of them. On the days we didn't make reservations, we ended up having to go back to our hotel to eat because we couldn't get any food in the park. Don't get me wrong, room service was good. But, it was also expensive. Do yourself a favor and make a reservation or bring food with you to the park if you want to save money.
Bring a Pain Reliever for Your Feet
Although I can usually manage to make my way through Universal Studios Hollywood without a pain reliever, multiple days (and you will need multiple days) as Universal Studios Orlando was more than I could handle. Now, granted, I am mildly handicapped as a result of having been hit by a car 3 1/2 years ago (seems like it was much more recent). I have a metal rod in my leg. And, I cannot walk as much as I used to. I am working on getting back in shape, but it's hard.
That said, even if you are in great shape, I still recommend bringing a pain reliever just in case.
Make Some Time to Spend at the Resort
One mistake I made was that I didn't plan for jet lag or adjusting to the new timezone. We arrived at Universal on Saturday and stayed up late for virtual karaoke. Then we got up early to head into the park for our VIP tour.
Looking back, I wish I had planned for us to arrive on Friday. This way we could spend Saturday at the resort relaxing. Even if you are on the east coast, I still recommend taking a day to enjoy the resort. We stayed at Sapphire Falls Resort. And, they have a huge pool with waterslides. I really wish we had taken the time to enjoy them.
Many of the other hotels have pools and other amenities that can be enjoyed as well.
Some Hotels are Pet Friendly
There are four pet friendly hotels at Universal Orlando Resort: Loews Royal Pacific Hotel, Loews Sapphire Falls Resort, Loews Portofino Bay Hotel, and the Hard Rock Hotel. These, however, are all premier (Royal Pacific, Portofino Bay, and Hard Rock Hotel) and preferred (Sapphire Falls), with prices starting at around $250/night.
There is a benefit to choosing a premier hotel, however, and that's that express passes are included in that cost–if you can afford it. If not, there are numerous partner hotels offsite that allow pets for a lower cost such as Holiday Inn & Suites across the street from the parks at $106/night and Wyndham Orlando Resort International Drive for $76/night.
How to Book Your Package
You can call AprilCoxTravel & Freelance at 424-291-2267 or fill out this form to request a quote. You can also set up a consultation via our Calendly calendar. Please note that quotes and consultations are $25, however, this will be put toward your trip if you book with us.
//tp.media/content?currency=usd&promo_id=7879&shmarker=351688&campaign_id=100&trs=161172&show_hotels=true&searchUrl=www.aviasales.com%2Fsearch&border_radius=0&plain=false&primary=%23FF8E01&secondary=%23FFFFFF&dark=%23262626&light=%23FFFFFF&special=%23C4C4C4&no_labels=&locale=en&powered_by=true
Similar Posts You Might Enjoy